02.10.2022
Art in the Palliative Age
by Lívia Páldi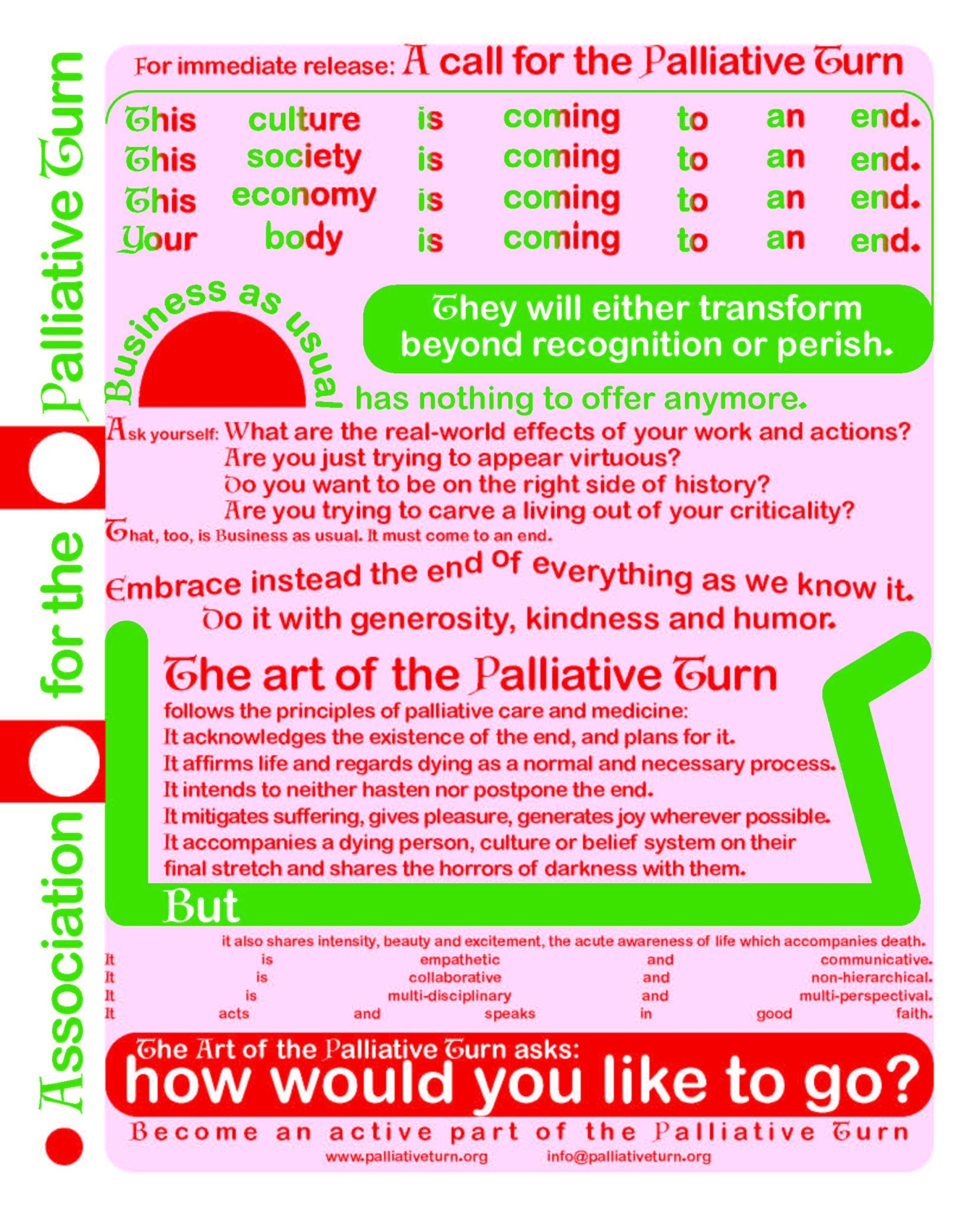 Association for the Palliative Turn (APT) Manifesto of the Association for the Palliative Turn, 2020 Design: Mathias Lempart and Sascia Reibel, Shortnotice Studio
During the beginning of the COVID-19 pandemic in 2020, I revisited a video of the last iteration of Barbara Hammer's performative lecture, The Art of Dying or (Palliative Art Making in an Age of Anxiety), which took place in 2018 at the Whitney Museum, New York. This lecture by Hammer, a pioneering lesbian artist and experimental filmmaker, was inspired by Rainer Maria Rilke's 1929 Letters to a Young Poet. Hammer's piece began as an award-acceptance speech she gave at Philadephia's Temple University[1] and was intended to be later chiseled into a gracefully composed meditation on her life work and the joys and hardships of art-making in times of advanced cancer. Painter Nicole Eisenman described this deeply touching award-acceptance event as a 'reverse funeral'.[2] Hammer's long-time partner, human rights advocate Florrie Burke, has continued to fight for the right to die with dignity, and more precisely, to get the law 'New York Medical Aid in Dying Act' passed, which would allow terminally ill adults to get a medical prescription to peacefully end their lives. Hammer and Burke had both been reaching out to lawmakers in hopes of persuading them to support medical aid in dying.
         The central goal of palliative care is to optimize the quality of life of patients suffering from life-limiting illnesses, which includes psychosocial and spiritual well-being.[3] Addressing the palliative involves a complex apparatus, from the perception of mortality, the legal and medical constraints of dying, and the ethics and the ecologies of end-of-life care to the available options in hastening the end under terminal conditions. These complexities also include the alarmingly different socio-cultural contexts under how one can or cannot make decisions for exiting life.
         I watched Hammer's talk namely to get over my fear of talking about dying and to better understand and accept death's anxieties. Watching artist Kasia Fudakowski, one of the founding members of the Association for the Palliative Turn (APT), also helped me with this fear. I first encountered Fudakowski on stage at Trafo Gallery in Budapest in early 2023 in a deadpan gig introducing APT as a loose collective of the 'palliatively curious'.[4] A second iteration of Fudakowski's performance, at KW's Pogo Bar in Berlin,[5] included a group reading of the APT Manifesto, a 'lifeline' drawing exercise, and a set of short videos selected by Fudakowski spinning a wheel of fortune. This gave me a glimpse into some of the core practices of APT, whose members, either as occasional affiliates or in a more engaged fashion, include artists, designers, comedians, a climate scientist, a palliative practitioner, and a kinesiologist, amongst others.
         APT was initiated by the visual artist, cartoonist, and anti-comedian Olav Westphalen, who coined the term the 'Palliative Turn'. Decades of work by Westphalen has informed the concept, which derives from often durational, collaboration-based past projects, such as Dysfunctional Comedy, a performative research-based work into humour and its capacities to challenge norms and attitudes to social taboos and sensitivities while critically addressing power relations and inflexibilities in the arts.[6] Westphalen's own experience with cancer steered his ongoing artistic investigation into the theory and mediums of humour and comedy for palliative use. In his teaming up with collaborators, a group in flux was born.
         The varying skills sets brought into APT and shared by its contributors make a versatile and open-ended project. They work horizontally, thus benefitting from a wide range of experiences and attitudes when addressing loss, death, dying and pain—conditions that are not only very complex but also uncomfortable to deal with. With distinctive careers, APT's founding and core members, such as visual artists Fudakowski, Dafna Maimon, Simon Blanck, or comedian John Luke Roberts, meet at the crossroads of comedy. They reference the theory and philosophy of (anti)-humour and construct paradoxical situations that highlight their critical viewpoints and respond to pernicious problems. APT also draws from the experience of professional caregivers and palliative care practices, like death and grief counselor Lydia Röder, who has been working with people at the end of their lives since 1988 by using music to ease pain and anxiety of patients in terminal conditions.[7]
         APT puts forward questions about the expectations and reservations of 'the end' that are situated within the global ecological crisis-panic matrix. These questions also centre around some of the contradictions regarding the social role and expectations of art. 'Much of contemporary art up to now (and I include my own efforts here)', writes Westphalen, 'has derived its legitimation from some claim, however vaguely implied, to making things better. It usually tries to do so by employing classic strategies of the Enlightenment, such as critique, exposure of ideologies, awareness-raising, and so on. While art usually isn't put to direct use, it still is expected to lean towards solutions, however poetically or indirectly'.[8]
         Defining itself ironically and also ambivalently within the culture of 'turns', APT identifies as a group of makers and learners in flux and is driven by critical interdisciplinarity in their artistic inquiries and caregiving practices. Humour acts as a medium, an attitude, and a variable toolset to support sense-making and agency within our current reality. APT can also be situated within contemporary discourses around caring. Their projects, growing in number, focus on the extended and politicized understanding of care, the issues amplified by the recent pandemic, and the urgency to work out sustainable models of production.[9] APT promotes itself as a shareable resource and also works as a framework to rethink art's capacities in venturing beyond illustrative diagnoses of mounting crises.
         Informed and powered by conversations, assemblies and exchanges, APT has developed through a line-up of arts-based activities, starting with an informal gathering, then the symposium AFASIOTOPIA at Salon am Moritzplatz in Berlin during the first wave of the COVID-19 pandemic, and later, exhibitions and events at the Brandenburgischer Kunstverein, Potsdam, and the Künstlerhaus Bremen.[10]
         In the short history of ATP, there have been several organizational models based on its associates wide range of experiences.[11] As the number of members and adoptees of APT have grown, the possibilities might also seem plentiful were it not for challenges to funding and, often, the effects of formalised institutional operations, curatorial framing, and conventional expectations of art production. In its various constitutions, the group has collaborated in white-cube settings, among other locations. Occasionally, they work towards festival-type environments using props, texts, medical/care tools and contemporary artworks.[12]
         There is a difference in how artistic and palliative practitioners look at the body and care process. Thus, the format and the language to make visible their collective thinking needs to be carefully negotiated. For example, artists might open the discussion about palliative thinking through absurdist takes on pain, tragedy, and anxiety, but they might also look at feelings of delight and joy.  
         APT might be a headache to those who expect a tightly organized structure and miss seeing more awkwardness. It is a formation in flux, shaped by a changing circle of active contributors. Its operation, as usual with collectives, depends heavily on its membership's proactiveness and use of the platform for collective benefit.
         Where APT works best is possibly the performative facilitation of 'services', be they audits, physical exercises, drawing workshops, music events, and so on. Some of these services are derived or informed by palliative care exchanges and are still exhibitable in some way. At its core, APT aims to foster a process-oriented and playful collective critical inquiry into operating resiliently and within the ever-hypocritical arts establishment.
[1] Hammer's lecture on living with advanced cancer while making art began as an impromptu award-acceptance speech at Temple University in 2018. She delivered it again at the Tyler School of Art, Yale University, and, finally, in a more resolved form, at the Whitney Museum. See https://barbarahammer.com/performances/the-art-of-dying-or-palliative-art-making-in-the-age-of-anxiety/.
[2] See https://www.artforum.com/diary/corrine-fitzpatrick-on-a-barbara-hammer-performance-at-the-whitney-museum-77258.
[3] See https://www.ncbi.nlm.nih.gov/pmc/articles/PMC6020769/.
[4] As described by Fudakowski
[5] You can watch Fudakowski's performance at Trafo Gallery here: https://trafo.hu/en/additional_programs/TU_Fudakowski. Fudakowski was invited by Sofie Krogh Christensen to peform in March 2022. See https://www.kw-berlin.de/en/pogo-bar-kasia-fudakowski/.
[6] See https://www.sternberg-press.com/product/dysfunctional-comedy-a-reader/.
[7] See https://lydia-roeder.de/.
[8] Olav Westphalen, 'Welcome to the Palliative Turn', in The Palliative Turn 1, Künstlerhaus Bremen, 2022, p. 10.
[9] One of the very powerful projects during the pandemic was the collective artists manifesto Not Going Back to Normal, created in Scotland in 2020, that 'gathers disabled artists in their diversity, rage, and imagination to call out the institutional ableism in the Scottish arts and picture a future in which disabled artists are central'. See https://www.notgoingbacktonormal.com/.
[10] See https://www.salonammoritzplatz.de/event/workshop/afasiotopia-or-the-palliative-turn/,
http://www.bkv-potsdam.de/palliative-turn, and https://www.kuenstlerhausbremen.de/de/ausstellung/the-palliative-turn/.
[11] Worth mentioning is the four-day gathering at Nida Art Colony's 9th Inter-format Symposium, after which some of the future core members of APT (Olav Westphalen, Kasia Fudakowski, Dafna Maimon) started to discuss plans for what has become the APT collaboration. See https://nidacolony.lt/en/projects/symposium/inter-format-symposium-2019.
[12] It was present at the exhibition and publication project Sensitivity training for the 25th Gabrovo Biennial of Humour & Satire and the Brandenburgischer Kunstverein in Potsdam. See https://biennial.humorhouse.bg/en/exhibitions/Sensitivity-Training-Exhibition-curated-by-Olav-Westphalen-12 and http://www.bkv-potsdam.de/palliative-turn.
Lívia Páldi is a curator and art historian currently based in Budapest, Hungary. Her most recent exhibition project has been On Violence, Budapest Gallery.
This contribution was published in framework of The Palliative Turn
Related Content